Spring Tour Online events will help you to focus on your wellbeing and discover ways to provide your loved ones with powerful solutions, all from the comfort of your own home.
So, what can you look forward to at this year's virtual Tour? From learning about integrated lifestyles to empowering your family with the tools for pro-active self-care, Spring Tour is an unmissable opportunity to enhance the way you manage wellness through the power of essential oils.
Safety and Serenity at Home
To manage your wellness is to lead a healthy and fulfilling life through conscious choices, both mental and physical. Finding natural solutions for yourself and your family brings peace of mind and serenity into your home. So, come and join us for Spring Tour Online and learn how to be in sync with our body's rhythms through mindful, informed choices.
The Spring Tour Online Prize Draw
When you register for a Spring Tour Online event on Eventbrite*, you will enter a prize draw to win doTERRA products shipped right to your door! The prize draw is exclusive to those who attend an online tour event, so make sure that you don't miss your event. The winner will be announced during a live event and this could be you! Remember, there is only one entry per participant, and this may not be transferred or exchanged, and no cash value assigned.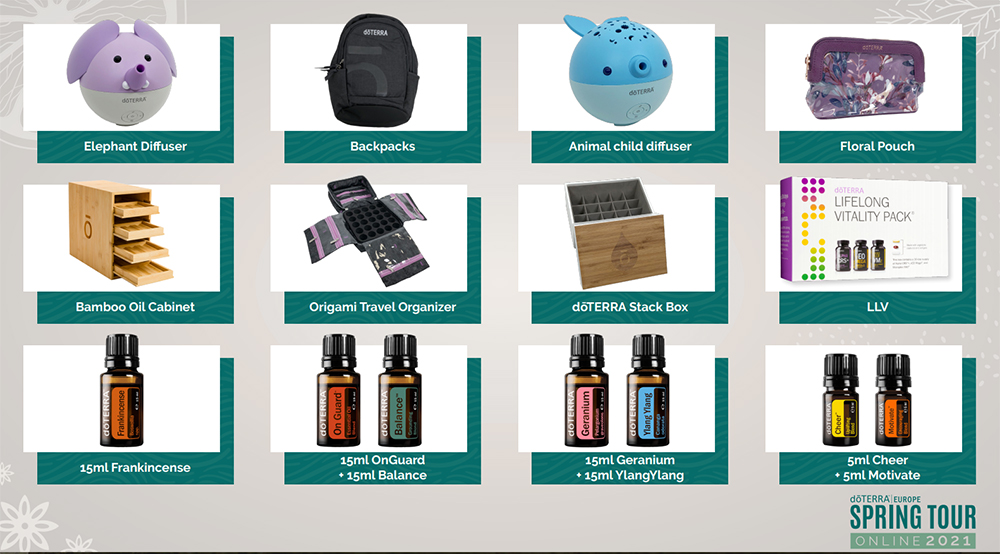 *Registration closes 24 hours before an event begins, so please allow plenty of time to sign up to an event.
So, join us for Spring Tour Online – we can't wait to e-meet you!